I'm always extremely grateful for the time authors take to answer the questions I send them. Here at
Kamvision
I think I've been very lucky to have some great responses to interview questions from some really wonderful authors. This latest is no exception. A little while back I published my review of the excellent
Zoo City
by South African novelist
Lauren Beukes
. I'm now really pleased to bring you this interview with Lauren, where among other things, we discuss her books, race, and the politics of contemporary South Africa. I know I'm biased, but I think it's great and I hope you do too.
Hi Lauren! I think there is only one way to open this conversation: an Afghan Warlord with a penguin in a bullet proof vest?
And I think there's only one response to that: Cannibal Penguin FTW!
Haha! Fair enough.
OK so let's talk about Zoo City. One of the things that most impressed me was the way you brought together a number of distinct elements and combined them in a very unique way. Describe for me your vision for the book?
Interweaving other elements like prison interviews, an IMDB page describing a documentary on aposymbiots or a music magazine profile on one of the main characters was a sneaky way of avoiding painful exposition.
Extraneous dialogue that's only there to help the reader figure out the world is boring to read – and boring to write.
I was inspired by the way
Alan Moore
uses found objects and extra materials to build the world and the story, from a vaudeville song to risqué Victorian lit-smut, by how movies build clues into the background, like a conscription poster in a café window, for example that lets you know a war is going on.
But it's also a reflection of the way we experience the world and media with hyperlinks to other interesting things, different perspectives, like puzzle pieces you have to put together yourself.
What was really interesting is that I got other people (music journalist
Evan Milton
, writers
Sam Wilson & Charlie Human
) to write some of the additional materials and the other writers had a whole other take on the world I wouldn't have anticipated.
Like the additional pieces on the Undertow and on Aposymbiot Psychology? I thought those pieces were great, what made you decide to include them?
I wish I could take the credit on that. The psychology report was by
Charlie Human
and it was entirely his idea. I love that it seems to undermine the theories of the world I've revealed, which is exactly what happens in real life.
I wanted to leave enough space for people to develop their own theories, the same way we have different ideas about what happens after we die. The real world isn't readily explained, so why should fiction be?
Very true! I was also struck by the way you contrasted humour with the harsher elements of the story. Is this an aspect of your writing generally would you say or did you decide to include the humour for a purpose more specific to this novel?
That dark humour is part of my style. I don't know how I would extract it. But it also helps keep Zinzi sane. It's part of her defense mechanism against the world and, hey, jaded wise-cracking is practically compulsory for noir.
Forgive me, but I have to ask this rather obvious question: If you were an aposymbiot what animal would you have, and what would be your accompanying power?
A megaladon! Which means my magical talent would probably have to be the power to levitate a giant sea water tank everywhere I went to ensure it didn't asphyxiate. Hmmm, this may not be terribly practical.
The pop culture and music references give the book a very contemporary feel. Are you a big music fan? Are you likely to be found shaking your booty to the latest sounds in a nightclub or other such venue?
I love lush and twisty electronica with dark depth ala
Amon Tobin
,
Barry Adamson
,
The Real Estate Agents
and
Spoek Mathambo
. You can get an idea of my general tastes on the
Moxyland
and
Zoo City
albums that I put together with
DJ HoneyB
, available from
africandope.co.za.
Having a two year old makes going out clubbing tricky; babysitters are expensive and the idea of going out late is always foreshadowed by the knowledge that my kid is going to wake me up at 6am the next morning. I miss dancing, actually. I wish clubs and gigs could kick off earlier, like 9pm, instead of midnight.
Despite the fantastical elements, the depiction of Zoo City as an urban slum appeared very real to me. What kind of research did you undertake to create that level of authenticity?
I spent some time in the inner city slums of Hillbrow and central Johannesburg with
Johnson Sithole
, a Zimbabwean émigré who runs his own small security company and does freelance work facilitating for photographers and journalists.
Normally, as a journalist, my research is restricted by the interests of my brief, but because I was there purely for my novel, we were free to go anywhere that grabbed my interest or that I thought would serve the plot. We spoke to everyone from street vendors to squatters to private security guards patrolling a building, who gave us the grand tour and insight into the neighbourhood.
I specifically sought out Congolese refugees to research Benoit's background and I'm very grateful to
Jamala Safari
who shared his story of how he traveled to South Africa from the DRC. It was very important to me to get the details right, to capture the sense of place not just as a dilapidated horror house of crime and poverty, but as somewhere ordinary people live.
Kgebetli Moele's
novel about Hillbrow,
Room 207
, was also extraordinarily helpful and if you're interested, I'd also recommend checking out the movie,
Jerusalema
, based on the real-life building hijackings that happened in Hillbrow.
The one experience I couldn't find a way to transmute into fiction was visiting the
Central Methodist Church
, where some 4000 refugees, mainly from Zimbabwe, were sheltering at the time. It was devastating, babies being bathed in buckets, people cramming into basement rooms where there was barely standing room, let alone space to lie down, spilling over onto the stairwells, where if you were lucky, you had a piece of cardboard as a bed to lay down on the narrow concrete steps. It was very upsetting, not least because for these people right now, this was the best possible option. It left me reeling and I'm still processing it. It may make it into another book, but at the time, it was still too raw to work into
Zoo City
.
So, has your research ever taken you into any particularly scary places?
As a journalist, I've interviewed some pretty scary people, from trendoid swingers who apply a strict beauty apartheid to their members to wannabe teenage vampires and a paramilitary township vigilante group in Khayelitsha who will redress wrongs for a small fee to cover "transportation costs". In that particular case, my Xhosa translator/fixer yelled at me afterwards for asking aggressive questions of the former freedom fighters turned "anti-crime association", which he said he had to tone down in translation for my safety.
But the closest call was when photographer
Marc Shoul
and I were on assignment for
Colors
magazine in Nyanga, parts of which are desperately poor and dangerous. We were talking to people about illegal electricity connections when this very friendly, well-spoken, well-dressed guy strolled up to chat and our local fixer freaked out and told us to "Get in the car, right now!" As we were driving away, he explained that the guy was a hardcore gangster most likely intent on mugging us.
It's not particularly exciting, I'm afraid, but largely that's because whenever I've worked in the townships, I've found people to be overwhelmingly welcoming, open, friendly and helpful. I think we forget that, that in our fiction and reportage we tend to focus on the relentlessly negative.
Getting back to
Zoo City,
it
is your second published fictional novel, how did the writing of it compare to
Moxyland
; have you noticed any changes in yourself as a writer from one book to the other?
It was certainly smoother-going writing in one voice (
Moxyland
switches between four narrators with their own biased perspectives on events). And it was easier, knowing that finishing a book was an achievable thing.
I've had several readers tell me, very apologetically, that as much as they loved
Moxyland
,
Zoo City
is the better book – but damn straight. If I'm not improving, pushing myself, what's the point?
You have a background in journalism and also in script writing, in what way does this background contribute when you write novels?
Journalism has given me an eye for detail, especially the real, surprising ones you might miss if you were just making it up. And there's nothing like transcribing hours and hours of interviews to develop an ear for how people speak – and speak differently. Script-writing has helped with keeping scenes short and taut and, I hope, cinematic and again, dialogue.
You've also written Non-fiction and Lit-fic as well, so what is attractive for you about SF literature?
I hope
Steve Biko's
ghost will forgive the RT in a non-political context, but "I write what I like," and that includes neo-apartheid dystopian parables, rollicking non-fiction about crazy-cool South African women in history, a mad mecha tale about a Soweto girl in Tokyo that mashes up real-life Japanese art and literature, not to mention investigative journalism about 419 scammers, rehab safaris and electricity cable thieves. I've always been attracted to big ideas and inventive stories with the capacity to surprise you, which includes SF and SF-nal lit like
Cloud Atlas
or
Oryx & Crake
, but also sprawling neo-realist social epics like
Jonathan Franzen's
The Corrections
.
I think outside of South Africa there is probably an expectation that a South African writer would write in some way about race, and yet there is very little direct reference made to race in your work. Can you explain a little of your thinking around this issue?
By now, 16 years after the first democratic elections, we all hoped South Africa would be post-race. The reality is that it's not, particularly for the older generation (refer controversial soundbites from ANC Youth League President
Julius Malema
and recent, ugly, race scandals from Afrikaans writer
Annelie Botes
and singer
Steve Hofmeyr
, who I believe have their heads up their asses, but I've been told I'm not very tolerant of gross, stupid and ignorant intolerance. Sue me.)
And it makes me furious that my black foster brother,
Thabo Mataboge
says he gets profiled and harassed by the cops walking home through the very nice middle class neighbourhood we live in, on practically a weekly basis.
Not to mention the recent
xenophobic attacks
and the anti-African-foreigner sentiments that are simmering below the surface of many townships.
BUT I think the younger generation have a very different experience, to the extent that some young adults I've spoken with really, fundamentally believe that apartheid has nothing to do with who they are now. Race still crops up, but it's less of an immediate pressing issue, particularly among young urbanites. It's more about class these days.
And that's exactly the kind of thinking I was interested in exploring in both my novels – about the artificial divides we throw up between ourselves. During apartheid, it was strictly race, now it's class or the difference between South Africans and other Africans.
In
Moxyland
, I played with a neo-corporate apartheid where your cell phone's sim card substitutes in for the
dom pass
of old. In
Zoo City
, I was interested in African xenophobia and the stigma of crime and Aids. Being a zoo is an allegory for that – but also its own thing. Political statement will always be tangled up in my work, but it's still secondary to the story.
So it is about race – and the tangles of identity post-apartheid, but not explicitly spelled-out. I'd find that dull to write, and frankly, it's more complicated than black and white.
A number of commentators in the industry have suggested that authors have a responsibility to push for greater representation of women and minorities in literature and in SF literature in particular, what are your views on this?
It would be great if it could happen organically, but I am disturbed by the lack of black characters in US TV shows, for example. There were what, three black characters in
Battlestar Galactica
?
Maybe we're spoilt here, because South African-made television better reflects the reality of this country, where 79% of our population is black. But I interviewed
Michael K Williams
aka Omar of
The Wire
, a while ago (and slipped him a copy of
Moxyland
– he'd be an awesome Tendeka) and we discussed how crazy it is that there are so few roles going for awesome black actors. Madness! (Although very happy to see that he's in
Boardwalk Empire
)
I'm afraid that as it's not happening naturally, we probably do have to make a conscious effort to ensure that there's more representation. But not for the sake of it. Because there's a kick-ass story that just so happens to feature a black woman or a transsexual or anyone outside of the default setting of white/male/hetero.
Editors and publishers should be looking out for those stories and writers – and for their part, writers shouldn't be afraid to step out of their comfort zones.
I find the arguments that "I wouldn't know how to write a character outside of my gender/race/culture/sexual orientation" lazy and specious. Use your imagination. Do some frigging research. Talk to people.
I'm not saying that stuff doesn't matter – it's a lens through which you experience the world, which shapes who you are. But it's not impenetrable. People are people.
On
Zoo City
, I had black friends, including writers
Lindiwe Nkutha
and
Zukiswa Wanner
, read over my stuff to make sure I got the nuances of the black protag, Zinzi December, right. (Added bonus, as my "cultural editor", Zukiswa, who lives in Johannesburg, also helped finesse Joburg details and slang. In one scene, I had Zinzi buy a single Stuyvesant cigarette from a street vendor – Zukiswa pointed out that it would have been far more likely to be a Remington Gold. Research and fact-checking FTW!)
Oh – and as a footnote, I was tremendously proud of my publisher
Angry Robot
and US-cover designer
John Picacio
for going with a black character on the cover of the US-edition of
Zoo City
, particularly in light of last year's cover race-fails. At the same time, it's ridiculous that I should have to be proud of that, that it's not blatantly obvious standard procedure.
You touch a little upon muti killings in the novel, a potentially difficult subject to write about I would think. I know of some who might say Traditional African Religion receives very biased reporting, that as terrible as these killings are, the sensationalist material is all that is reported when the issue of indigenous African Spirituality is concerned, and that this further enforces cultural stereotypes. Is it difficult to write about a potentially sensitive issue such as this?
Ah yes, there's that great essay by
Binyavanga Wainana
for Granta about how [not] to write Africa. It's well worth watching the video with
Djimon Hounsou
It's a horrible reality that muti killings do occur, at a rate of at least one a month, according to the head of South Africa's Investigative Psychology Unit, who I interviewed recently. But blaming those on traditional healing is akin to blaming Christianity for child-abusing priests. It's a horrifying anomaly perpetrated by fucked-up people abusing a belief system for their own deeply malevolent ends.
I tried to make the distinction between traditional healing (sangomas/nyangas) which is based on divination through communing with the spirits of the ancestors and herbal remedies (sometimes involving an animal sacrifice to appease the ancestors) and witchcraft (baloyi/zwidoma) very clear.
I spoke to a (white) thwasa/initiate friend who talked me through her experiences, consulted with a real sangoma at Mai Mai (as Zinzi does in the novel) to make sure I was accurately describing the fundamentals, although I'll happily confess I took major liberties in the name of fiction.
This is a reinvented world, after all, but it made sense to base my magic system on traditional African beliefs of animism and ancestors and muti rather than fairies and dragons and magic wands.
I tried to convey the reality respectfully and truthfully. I hope I succeeded.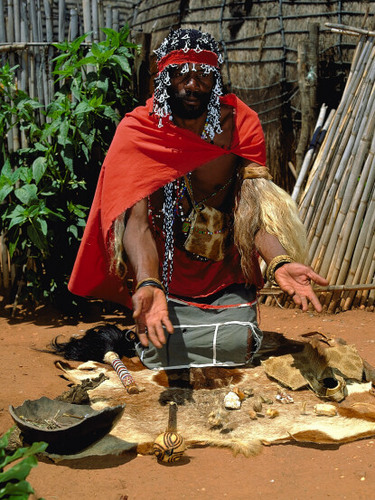 As a South African with a journalistic background, I am interested to hear a little of your perspective on contemporary South Africa. What are the biggest challenges facing the country now do you think? Has anything changed post World Cup?
The World Cup was proof that we can pull together as a nation, as long as we don't have to unite over anything more complicated or politically fraught than kicking a ball around a field.
It was a temporary, bright, unifying distraction from the crime and flailing education system and corruption and cronyism and xenophobia and poverty and 40% unemployment.
BUT, that said, South Africa is an amazing place, the spirit of reconciliation surprises and humbles me. Personally I find it hard to let go of the horrifying things people have done. I don't believe apartheid's Prime Evil,
Eugene de Kock
for example, should ever get a pardon, politically-motivated acts or no, and I felt that the University of the Free State students who abused a cleaning lady by pissing in her food and making her eat it should have been chucked out on their arses – instead Vice Chancellor
Jonathan Jansen
forgave them and made them part of the long-term solution. (See his speech
here
) I'm lucky to live in a country which has has greater courage and conviction and a capacity for forgiveness than I do.
That we managed to come out of apartheid without a civil war, that we have a democratic society with one of the most liberal constitutions in the world, is astounding.
We do have major problems, but so do a lot of countries. The USA stooped to vote rigging in the
Bush vs Gore
election and now gross privacy violations via the TSA, China has the great firewall and tortures nay-saying bloggers, Italy has a corrupt womanising president, the UK's proposed three strike law to cut your household off from the Internet, is something I only imagined as a terrible possibility in
Moxyland
.
Although
Moxyland
is bleakly pessimistic, I lean towards pragmatic optimism when it comes to this country. It's going to take us decades still to recover from the damages wrought by apartheid and we have to resist vocal hate-spouting idiots and shout them down if necessary. We're in for a long haul, but ultimately we'll pull through.
The spirit of place is very strong in your first two novels. Would you consider setting your work elsewhere? A Sci-fi novel in another part of Africa could be interesting - Yoruba Steam Punk?
Ooooh, Yoruba steam punk. Don't tempt me. I'd have to spend enough time there to get a feel for the place to be able to write it authentically, which may be tricky for the moment considering my daughter is still so young. I am considering a thriller set in the US and I'm certainly not going to limit myself to only writing about South Africa. It's an interesting place, there are great stories here, but ultimately I'd like to be
Ian MacDonald
meets
Margaret Atwood
crossed with
David Mitchell
, writing surprising stories that defy easy genrification in strange and interesting locales.
I thought the setting and the character of Zinzi would be perfect to feature in an ongoing series, any thoughts on possible sequels?
I'm definitely considering a sequel. That's all you're getting out of me.
OK then what about other plans for the future in terms of writing, anything else you're prepared to share?
I'm cagey about works-in-progress, but I've got a couple of things fermenting in the back of my head, including an apartheid thriller, which I'm researching at the moment, a western, a dark fairytale and some ideas for comics and movies.
I need more time to do them all. And clones. Somebody, please, bring in the clones!
For more information on Lauren Beukes you can visit her website
here.
Zoo City
is available in the UK and South Africa now and in US/Can from Jan 2011 via
Angry Robot Books.
Also available as an e-book.