Right then, this is the last of my preview posts looking at books I've newly acquired and the upcoming and recently released books that I'm hoping to add to my collection soon. Here is
Part 1
and
Part 2.
The Ravenglass Eye by Tom Fletcher
Tom Fletcher
is easily one of my favourites of the new wave of British Horror Writers. He's only written two novels so far,
The Leaping
and
The Thing on The Shore
, but I think both show not just his love of cult and horror fiction, but also literary influences from outside the genre, particularly from writers thought of as postmodern such as
Don DeLilo
and
Paul Auster
. He seems to be pushing to do things a little differently and his work has a focus on societal factors too, which I really like because that's something that also interests me.
Ravenglass Eye
sees Fletcher switch to the new
Jo Fletcher
imprint from Quercus.
Edie is a barmaid at The Tup in the small town of Ravenglass. So far, so normal. But when she is caught in a freak earthquake she subsequently develops 'The Eye - a power that allows her glimpses of other worlds and strange events. At first Edie passes her visions off as nightmares, but when a corpse is found, murdered, she realises that she has seen this death before, and that her visions are not imaginary, but real. Mankind had better hope that Edie finds a solution to the murders soon, because it's more than just the influence of 'The Eye' that has entered the world. A power far more malevolent has been released, and that power is hungry for death.
The Ravenglass Eye by Tom Fletcher. Published by Jo Fletcher Books (27 September 2012)

Available from Amazon. and Book Depository.
The Hollow City by Dan Wells
Dan Wells
follows up his earlier work about a potential serial killer,
I Am Not A Serial Killer
,
Mr. Monster
and
I Don't Want to Kill You
, with a look into the mind of someone diagnosed as schizophrenic. I'm really not sure what I will make of this. I hope that it doesn't play too much to stereotype. I think it's a very interesting premise, however, and will reserve judgement until after I've read it.
Dan Wells won instant acclaim for his three-novel debut about the adventures of John Wayne Cleaver, a heroic young man who is a potential serial killer. All who read the trilogy were struck by the distinctive and believable voice Wells created for John.

Now he returns with another innovative thriller told in a very different, equally unique voice. A voice that comes to us from the realm of madness.

Michael Shipman is paranoid schizophrenic; he suffers from hallucinations, delusions, and complex fantasies of persecution and horror. That's bad enough. But what can he do if some of the monsters he sees turn out to be real?

Who can you trust if you can't even trust yourself? The Hollow City is a mesmerizing journey into madness, where the greatest enemy of all is your own mind.
Hollow City by Dan Wells. Published by Tor (03 July 2012)
Available from Amazon and Book Depository
The Ward by S.L. Grey
S.L. Grey
is actually two people:
Sarah Lotz
, a crime novelist, and
Louis Greenberg
, a mainstream literary writer.
The Mall,
their first novel together
,
was
an intelligently plotted swipe at contemporary consumer culture set in Johannesburg, South Africa.
Lisa is a plastic surgery addict with severe self-esteem issues. The only hospital that will let her go under the knife is New Hope: a grimy, grey-walled facility dubbed 'No Hope' by its patients.

Farrell is a celebrity photographer. His last memory is a fight with his fashion-model girlfriend and now he's woken up in No Hope, alone. Needle marks criss-cross his arms. A sinister nurse keeps tampering with his drip. And he's woken up blind...

Panicked and disorientated, Farrell persuades Lisa to help him escape, but the hospital's dimly lit corridors only take them deeper underground - into a twisted mirror world staffed by dead-eyed nurses and doped-up orderlies. Down here, in the Modification Ward, Lisa can finally have the face she wants... but at a price that will haunt them both forever.
The Ward by S.L. Grey. Published by Corvus (01 December 2012)

Available from Amazon
Hide Me Among The Graves by Tim Powers
A new
Tim Powers
novel is always an event. This one seems to have been a long time coming. It features the son of the protagonist from
The Stress of Her Regard
which has also had a re-release from publisher
Corvus
.
From multi-award-winning fantasy writer Tim Powers: a secret history of 19th-century London. 1862: A city of over three million souls, of stinking fog and dark, winding streets. Through these streets walks the poet Christina Rossetti, haunted and tormented by the ghost of her uncle, John Polidori. Without him, she cannot write, but her relationship with him threatens to shake London itself to the ground. This fascinating, clever novel vividly recreates the stews and slums of Victorian London - a city of dreadful delight. But it is the history of a hidden city, where nursery rhymes lead the adventurer through haunted tunnels and inverted spires. And where the price of poetic inspiration is blood.
Hide Me Among The Graves by Tim Powers. Published by Corvus (01 September 2012)

Available from Amazon and Book Depository
The Rise of Ransom City (Half-Made World) by Felix Gaiman
Felix Gilman's
previous novel,
The Half-Made World
was very well received by genre critics, and this second volume in the series is highly anticipated by those eager for more weird west shenanigans.
In The Half-Made World, Felix Gilman took readers deep into a world on the cusp of forging an identity. The Line, a cult of Industry, and the Gun, a mission of Chaos, were engaged in a war for dominance, one that The Line was winning city by city, enslaving the populations it conquered. A doctor of psychology, Liv Alverhuysen, was caught in the middle, unknowingly guarding a secret that both sides would do anything to have. Now Liv is lost on the edge of the world with Creedmor, an agent of the Gun, and the powerful Line will stop at nothing to find them.

But Harry Ransom, half con man, half mad inventor, is setting the edge of the world aglow. Town by town he is building up a bank roll and leaving hope in his wake because one of his inventions is actually working. But his genius is not going unnoticed, and when he crosses paths with the two most wanted outlaws in the "unmade world," his stage becomes even larger and presents an opportunity more lucrative than any of his scams or inventions combined.

The Rise of Ransom City by Felix Gilman. Published by Tor (27 November 2012)

Available from Amazon and Book Depository
Hidden Things by Doyce Testerman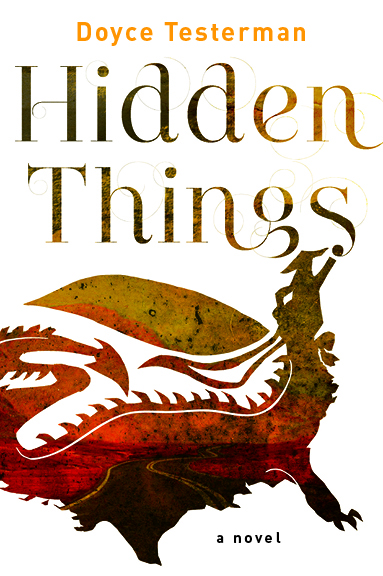 I saw a blurb for this from
Charles DeLint
, and it sounds a bit like a DeLint novel to me. Not the sort of thing that I read often, but if done well I do like this kind of modern fable/urban (or suburban) fantasy. I will give this a try.
Watch out for the hidden things...That's the last thing Calliope Jenkins' best friend and former lover says to her before ending a 2 a.m. phone call from Iowa, where he's investigating a case she knows little about. Five hours later, she gets another call, this time from the police. Josh has been found dead, and foul play is suspected. Calliope is stunned. Especially when Josh leaves a message on her phone a few hours later. Spurred by grief and suspicion, she heads to Iowa herself, accompanied by a stranger who claims to know something about what happened to Josh and who can-maybe-help Calli get him back. The road home is not quite the straight shot she imagined. Josh was involved in something a lot more complicated than a teenage runaway or a deadbeat dad, and Calliope finds herself on a surreal road trip into-and behind-America's heartland, hounded by magical beings twisted by living too long just-out-of-sight, and the secret bogeymen in Calliope's own troubled past. It's a search for the truth about her friend's death and the road she needs to walk if she ever wants to stand on her own. If Calli's not careful, her worst teenage nightmares could come true: she might never make it out.
Hidden Things by Doyce Testerman. Published by Harper Voyager (20 September 2012)

Available from Amazon and Book Depository
Monster by Dave Zeltserman
I've not really come across much on
Dave Zeltserman
in the UK, I think he's still pretty much an unknown over here. I have a copy of
The
Caretaker of Lorne Field
, and I really like his writing style. His work is largely noirish crime with some quirkier elements. I think this could be excellent. Love the idea of the
Marquis de Sade
being in cahoots with ol'
Dr. Frankenstein
.
The supernatural, unmissable new novel by the ALA Best Horror award nominee.

In nineteenth-century Germany, one young man counts down the days until he can marry his beloved . . . until she is found brutally murdered, and the young man is accused of the crime. Broken on the wheel and left for dead, he awakens on a lab table, transformed into an abomination. Friedrich must go far to take his revenge --only to find his tormentor, Victor Frankenstein, in league with the Marquis de Sade, creating something much more sinister deep in the mountains.

Paranormal and gripping in the tradition of the best work of Stephen King and Justin Cronin, Monster is a gruesome parable of control and vengeance, and an ingenious tribute to one of literature's greatest.
Monster by Dave Zeltserman. Published by Overlook Press (02 August 2012)
Available from Amazon and Book Depository
Celebrant by Michael Cisco
Michael Cisco has been lavishly praised for his philosophical horror by the likes of Jeff Vandermeer and China Miéville. This one looks like it will keep up the tradition of leading the reader into surreal landscapes and melancholy meditations on the nature of society, humanity, and being. From what I've seen so so far, Cisco appears to draw on a number of subjects of particular interest to me, and so I've been looking forward to this for a while.
The latest novel from Michael Cisco (The Narrator, 2010, The Great Lover, 2011), Celebrant is the story of deKlend's search for the mystical city of Votu, where time runs backwards, deified robots arise naturally in the mountains like mysterious rock formations, and gangs of vagrant orphan girls scavenge for survival whilst engaging in strange rivalries and alliances.

With a Miyazaki-like sweep of fantasy, and the Calvinoesque imaginative appeal of a guidebook to another world, this initiatory novel of reincarnation, pilgrimage, and discovery, experiments with other ways of locating yourself.
The Celebrant by Michael Cisco. Published by Chomu Press (14 Jun 2012)

Available from Amazon and Book Depository

The Broken Ones by Stephen M. Irwin
I've been hearing good things about this Australian horror writer for a little while now. His first novel,
The Dead Path
, published in the UK as
The Darkening
had some very positive reviews, and although I kept meaning to get around to reading it, unfortunately I never did. Having lived in Australia for a year, I have a real appetite for some dark fiction from Down Under. This is already available for the
Kindle
from Amazon UK, I've noticed. Also, check out the Australian trailer for this below.
Award-winning author Stephen M. Irwin returns with a thrilling, supernatural crime novel built around an intriguing question: What happens when every single person is haunted by a ghost only they can see?

Without warning, a boy in the middle of a city intersection sends Detective Oscar Mariani's car careening into a busy sidewalk. The scene is bedlam as every person becomes visited by something no one else can see. We are all haunted. Usually, the apparition is someone known: a lost relative, a lover, an enemy. But not always. For Oscar Mariani, the only secret that matters is the unknown ghost who now shares his every waking moment . . . and why.

The worldwide aftershock of what becomes known as "Gray Wednesday" is immediate and catastrophic, leaving governments barely functioning and economies devastated . . . but some things don't change. When Detective Mariani discovers the grisly remains of an anonymous murder victim in the city sewage system, his investigation will pit him against a corrupt police department and a murky cabal conspiring for power in the new world order.

Stephen M. Irwin has created an unforgettable crime novel and an intense, textured vision of the near-future. The Broken Ones is the riveting search for hope in the darkest corners of the imagination.
The Broken Ones by Stephen M. Irwin. Published by Doubleday Books (07 August 2012)
Available from Amazon
Umbrella by Will Self
Will Self
needs no introduction to readers in the UK. He's certainly a character, and his writing often ranges over a bewildering array of subjects. In this case, again, some of the subject material sounds like the kind of thing I find personally interesting. I think I read somewhere that the actual format of this book may be a little odd, possibly continuous text with no chapter breaks. Regardless, I think this should be good.
A brother is as easily forgotten as an umbrella. James Joyce, Ulysses Recently having abandoned his RD Laing-influenced experiment in running a therapeutic community - the so-called Concept House in Willesden - maverick psychiatrist Zack Busner arrives at Friern Hospital, a vast Victorian mental asylum in North London, under a professional and a marital cloud. He has every intention of avoiding controversy, but then he encounters Audrey Dearth, a working-class girl from Fulham born in 1890 who has been immured in Friern for decades. A socialist, a feminist and a munitions worker at the Woolwich Arsenal, Audrey fell victim to the encephalitis lethargica sleeping sickness epidemic at the end of the First World War and, like one of the subjects in Oliver Sacks' Awakenings, has been in a coma ever since. Realising that Audrey is just one of a number of post-encephalitics scattered throughout the asylum, Busner becomes involved in an attempt to bring them back to life - with wholly unforeseen consequences.

Is Audrey's diseased brain in its nightmarish compulsion a microcosm of the technological revolutions of the twentieth century? And if Audrey is ill at all - perhaps her illness is only modernity itself? And what of Audrey's two brothers, Stanley and Albert: at the time she fell ill, Stanley was missing presumed dead on the Western Front, while Albert was in charge of the Arsenal itself, a coming man in the Imperial Civil Service. Now, fifty years later, when Audrey awakes from her pathological swoon, which of the two is it who remains alive? Radical in its conception, uncompromising in its style
,
Umbrella is Will Self's most extravagant and imaginative exercise in speculative fiction to date.
Umbrella by Will Self. Published by Bloomsbury (30 August 2012)

Available from Amazon and Book Depository
Between Two Fires by Christopher Buehlman
Christopher Buehlman
is another new name in American Horror who has yet to come to the attention of us Brits. I have his first novel,
Those Across the River
, and it's an interesting mix of old school horror, Southern Gothic and mainstream literary elements. In fact I've noticed several times, Buehlman has been referred to as a literary horror writer (whatever that is) in American articles and interviews. I even read his prose style compared to
F. Scott Fitzgerald
.
There does appear to be an increasing amount of so-called literary horror about, from
Justin Cronin
and
Glen Duncan
to
John Harding
, horror seems to have gone all respectable lately. One to watch out for.
The new novel of epic terror by the acclaimed author of Those Across the River.

In the year 1348, Thomas, a disgraced knight, comes upon an orphan of the Black Plague. An unnerving picture of innocence, she tells Thomas that the disease is only part of a greater, more significant cataclysm—that the fallen angels under Lucifer are rising in a second war on heaven. Is she really blessed? Or is it delirium? As hell unleashes its fury, as the true nature of the girl is revealed, Thomas will find himself in a macabre battleground of angels and demons, sinners and saints, and a damnable struggle for nothing less than the soul of man.
Between Two Fires by Christopher Buehlman. Published by Ace Books (02 October 2012)

Available from Amazon and Book Depository
I know I bang on about horror and dark fiction a lot, but regular readers and those that follow me on
Twitter
all know that I do love me some good intelligent science fiction, and this looks like just that very thing. Although published by American
Night Shade Books
E.J. Swift
is a British Science Fiction writer. The trailer below has an endorsement from a certain
Dr. Adam Roberts
which is a remarkably persuasive thing in my world.
Nobody leaves Osiris. Osiris is a lost city. She has lost the world and world has lost her...

Rising high above the frigid waters, the ocean city of Osiris has been cut off from the land since the Great Storm fifty years ago. Most believe that Osiris is the last city on Earth, while others cling to the idea that life still survives somewhere beyond the merciless seas. But for all its inhabitants, Citizens and refugees alike, Osiris is the entire world--and it is a world divided.

Adelaide is the black-sheep granddaughter of the city's Architect. A jaded socialite and family miscreant, she wants little to do with her powerful relatives--until her troubled twin brother disappears mysteriously. Convinced that he is still alive, she will stop at nothing to find him, even if it means uncovering long-buried secrets.

Vikram, a third-generation storm refugee quarantined with thousands of others in the city's impoverished western sector, sees his own people dying of cold and starvation while the elite of Osiris ignore their plight. Determined to change things, he hopes to use Adelaide to bring about much-needed reforms--but who is using who?

As another brutal winter brings Osiris closer to riot and revolution, two very different people, each with their own agendas, will attempt to bridge the gap dividing the city, only to find a future far more complicated than either of them ever imagined.

Osiris is the beginning of an ambitious new science fiction trilogy exploring a near-future world radically transformed by rising seas and melting poles.
Osiris by E. J. Swift. Published by Nightshade Books (29 May 2012)
Available from Amazon and Book Depository
Wings to the Kingdom by Cherie Priest (Eden Moore)
Cherie Priest
has her fingers in a number of genre pies. Firstly, there is her
Clockwork Century
Steampunk novels, then there is her
Bloodshot
urban fantasy material, and now also these supernatural Southern Gothic,
Eden Moore
books. Of the three these are much more my thing. This one,
Wings to The Kingdom
has been out for a couple of months now. The first one,
Four and Twenty Blackbirds
was released at the beginning of the year, and a third,
Not Flesh Nor Feathers
is due out in late October.
The fields at Chickamauga, Georgia--America's oldest national military park--claimed 35,000 casualties during the Civil War. Any good guide will tell you that the grounds are haunted. The battlefield even has its own resident haunt, called Old Green Eyes for his tell-tale luminous gaze. It has long been said that Old Green Eyes intends no harm to those who respect the park. He is no menace, but a guardian of the dead. While he walks, the dead may sleep secure in the knowledge that their rest will be undisturbed. While Old Green Eyes patrols the battlefield, there is nothing to fear, for graves are not robbed and bones are not moved.

But suddenly a different phenomenon starts puzzling and frightening visitors, causing tours to be canceled and rangers to quit their jobs. These new ghosts are no illusions carved out of the low-rolling fog. One by one, the solemn-faced spirits in ragged uniforms show themselves, and one by one, they point a determined arm off into the distance. Why do the soldiers march again, and what has become of their unblinking custodian? The spirits need a go-between, someone who can speak to them, and for them.

Eden Moore is not interested.

But the ghosts aren't taking no for an answer.
The Wings to the Kingdom by Cherie Priest. Published by Titan Books (25 May 2012)

Available from Amazon and Book Depository
Tomorrow the Killing by Daniel Polansky
One of the more interesting of recent mainstream fantasy debuts was
Daniel Polansky's
Low Town
or
The Straight Razor Cure
as known here in the UK. A very readable, and surprisingly for fantasy, slender novel. An interesting mix of noir and fantasy, that focused on the characters rather than all the history and geography that epic fantasy usually loves so much. It also had some similarities with
Mark Charan Newton's
Legends of the Red Sun
series, both use very contemporary elements in language and in the situations the characters find themselves. This second book should be every bit as enjoyable as the first, and a fine read for lovers of fantasy as well as those who struggle with the bloat of many epic fantasy novels.
Once he was a hero of the Great War, and then a member of the dreaded Black House. Now he is the criminal linchpin of Low Town.

His name is Warden.

He thought he had left the war behind him, but a summons from up above brings the past sharply, uncomfortably, back into focus. General Montgomery's daughter is missing somewhere in Low Town, searching for clues about her brother's murder. The General wants her found, before the stinking streets can lay claim to her, too.

Dark, violent, and shot through with corruption, TOMORROW, THE KILLING is a fantastic successor to one of the most heralded fantasy debuts of recent times.
Tomorrow the Killing by Daniel Polansky. Published (UK) by Hodder & Stoughton (11 October 2012)
Let The Old Dreams Die by John Ajvide Lindqvist
I thought Lindqvist's last book,
Little Star
was fantastic. This new one is a collection of stories and other material, and features a kind of sequel to
Let the Right One In
. See the Swedish promotional trailer below. Don't worry it's subtitled for those of us who don't speak Swedish.
Whatever happened to Oskar and Eli? And what became of the beleaguered families in Handling the Undead? Find out in Let the Old Dreams Die. In other tales from this collection, a woman finds a dead body and decides to keep it for herself, a customs officer has a mysterious gift which enables him to see what others hide, and a man believes he knows how to deceive death. These are the stories of John Ajvide Lindqvist's rich imagination. They are about love and death and what we do when the two collide and the monsters emerge.
Let The Old Dreams Die by John Ajvide Lindqvist. Published by Quercus (30 August 2012)

Available from Amazon and Book Depository
And that's all folks!
That was a veritable mountain of tomes was it not? Along with a few other recent acquisitions that I've mentioned in
older posts
such as
Jack Glass
by
Adam Roberts
,
Last Days
by
Adam Nevill
,
Blood and Feathers
by
Lou Morgan
, and
Some Kind of Fairy Tale
by
Graham Joyce
, that's basically my reading sorted for the rest of the year - I better get cracking. Catch you later...or not, maybe.
Bye!